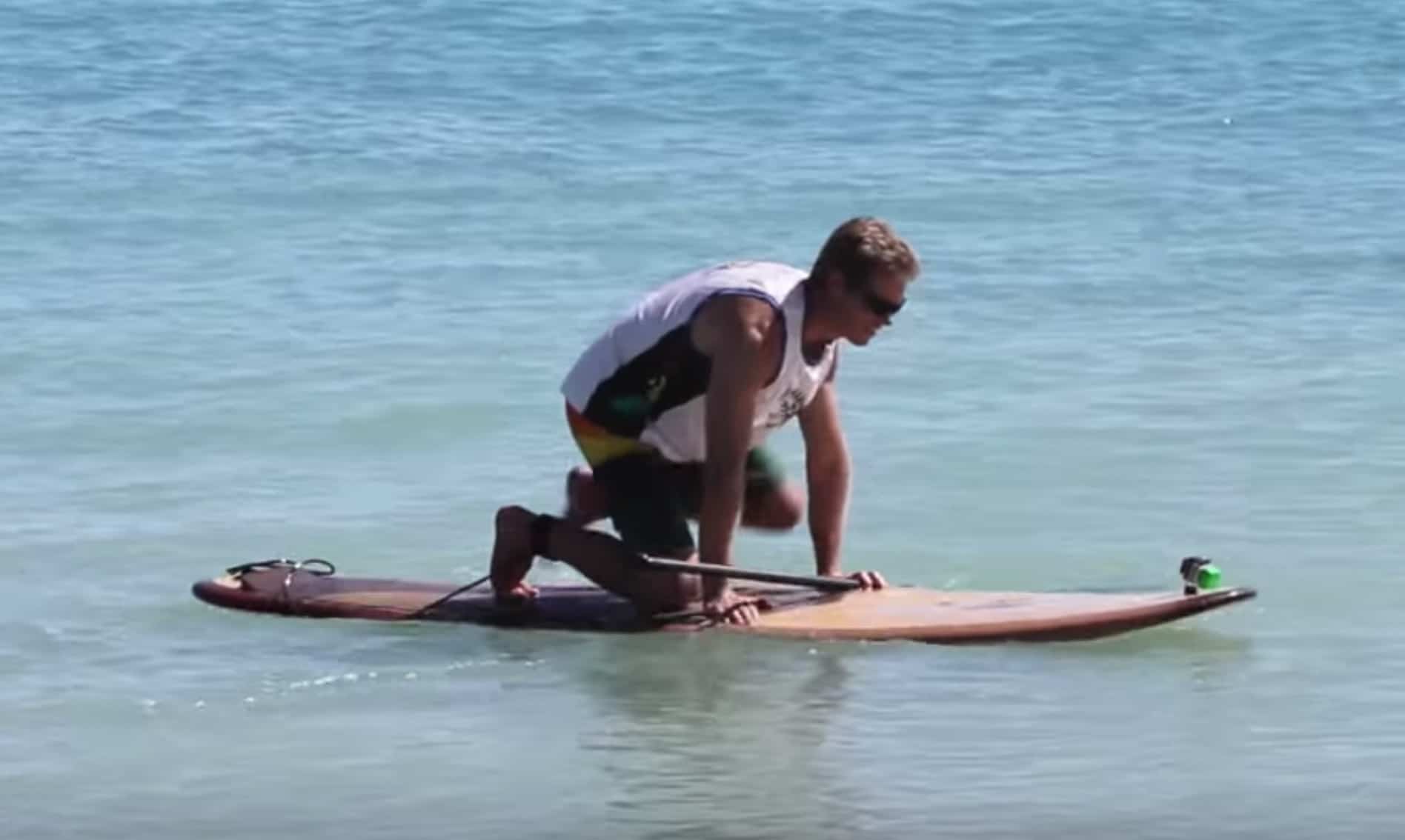 All You Need to Know About the Exciting World of Paddle Boarding
Visit any lake or coastal town and it's clear to see how popular paddle boarding has become. This sport appeals to the masses for good reason; it's fun, it's a good workout, and it's (relatively) easy to do (not to mention all the other benefits of paddle boarding). SUP boarding is one of the worlds fastest growing sports for a reason. Read on to learn more about the paddle board craze, the history of paddle boarding and how you can get started.
What, Exactly, is Paddle Boarding?
Think of paddle boarding as the wonder child of kayaking and surfing. Simply, paddle boarding is standing or kneeling on a board while using an oar to guide yourself along the top of the water. It can be done on nearly any body of water, but flat, calm water is often preferred by beginners. Paddle boards are wider than surfboards, so you have a bit more room to move on it.
You can find people riding paddle boards with their dogs or kids, while doing yoga or while fishing. Paddle boarding activities are nearly endless.
Paddle boarding's rise in popularity has come about because it is truly a sport anyone can do. You are free to serenely check out the marine wildlife or enjoy the views or engage in rigorous workouts. Paddle boarding can be done solo or in groups and on lakes, oceans or rivers. This means it doesn't have to be a vacation-only sport for those who do not live near the coasts.

What is a Paddle Board Workout Like?
A paddle boarding workout can be as intense as you want it to be, which means it is ideal for all fitness levels. It is a great cardiovascular exercise without being hard on your body. Unlike activities like running, your feet stay planted on the paddle board. This means significantly less impact on your joints while still maintaining an increased heart rate.
Balancing on a paddle board is a great way to strengthen core muscles resulting in less back pain, more flexibility and improved stability. Paddle board yoga is becoming a popular activity because it combines the physical workout of paddle boarding with the mind and body connection of yoga.
Standup paddle boarding is truly a great fullbody workout.
How long has Paddle Boarding been a Thing?
Some form of paddle boarding has been around for ages. Ancient fisherman stood in their boats while paddling out to deeper waters for a better view of their prey. Gondoliers of Venice still use a paddle boarding type stance to row around the canals. The Polynesians, for whom surfing is ingrained into their culture, are generally accepted as the inventors of modern-day stand-up paddle boarding.
The popularity of paddle boarding exploded after a picture of surfing legend and paddle boarder Laird Hamilton was published in surf magazines in 2002. The picture depicted him on a surf board rowing with a paddle while carrying the American flag. He considered it a way to keep on the water when the waves weren't cooperating for surfing. Today, you can find people paddle boarding anywhere there is a calm body of water.
How to get Started Paddle Boarding
Give paddle boarding a try! Head down to your nearest water sports facility and see how you like it. You can usually rent a paddle board for a specific amount of time to get an idea if it's something you would like to pursue further. If, like many of us, you're sold at first row, you might want to consider purchasing your own paddle board. This can save you money on rental fees in the future and gives you the freedom to paddle where you want, when you want.

Types of Paddle Boards
There are two main types of paddle boards; inflatable and rigid. Rigid paddle boards are solid boards similar to surf boards. They require the use of car racks or a truck for transportation and a significant amount of space for storage.
Inflatable paddle boards can be blown up with a hand pump prior to taking to the water. They are generally carried and stored in a backpack. This means that you do not need a dedicated storage space or a way to transport your board to the water. For beginners, inflatable boards are usually the easiest option.
Most inflatable SUPs include an adjustable paddle while rigid boards and paddles are usually sold separately. In this case, you would need to also shop for a paddle. Paddles should be about six to ten inches taller than the user and should be of an appropriate weight to avoid user fatigue. You can find them made of materials like fiberglass and aluminum. Typlically an inflatable paddleboard is what most people opt for due to its great storage & ability to transport in a small car.
Both Style of boards will work great if you are only planning on going out in flat water conditions while you learn to paddle.

Body Glove Performer 11
One of our favorite paddle boards for beginners is the Body Glove Performer 11. It is 34-inches wide and 11-feet long, providing ample deck space for a newbie. It comes with a backpack, dual-action pump and adjustable paddle so you have all you need to hit the water. A few other features of the Body Glove Performer include:
inflates in under five minutes
three fixed fins
three-layer stringer design
patented water bottle holder
bungee cord storage area
Additional Gear To Consider
There is a lot of paddle board gear out there. Here is some gear I would suggest considering:
A floatation device (Life Jacket)
A Leash (Coiled are my personal favorite)
Additional SUP paddles (I personally have quite a few based on travel or conditions)
Different fins (The size and shape of the fins effect its performance based on the conditions)
Safety Tips
Maintaining personal safety while paddle boarding is of utmost importance. If your board does not include a leash, it is a good idea to invest in one. This will physically attach you to your board in case you fall off. Depending on wind conditions and currents, your board can quickly be swept away if you are not connected to it. A few other safety tips include:
dress appropriately with hats, sunglasses and clothing with sun protection
wear sunscreen on exposed skin even in cloudy conditions
keep a safety whistle and small flashlight on your person
Different Types Of Styles
When looking for a stand up paddle board, you will notice many different styles like stand up paddling boards, SUP racing boards, SUP yoga paddle boards, paddle surfing, SUP fishing, and even Pedal Paddling. It's enough to get a person confused, so I would suggest looking for a local rental store where you can go and try out some of the different styles.
Getting on Board
It's finally time to take your paddle board to the water. Prior to heading out to the water, it is a good idea to check the weather forecast. Since water can be choppy both before and immediately after storms, it is a good idea to avoid paddle boarding during these times. You will also want to know what the wind conditions are because wind can impact how intense your workout may be. Additionally, make sure to avoid waters that are notoriously choppy no matter the weather conditions including fast-flowing rivers and rapids. These are only to be tamed by highly experienced stand up paddleboarders.
The following tips can help ensure a successful time on your paddle board.
Make sure you face the nose of the board. The nose is the pointier end of the board.
Make sure your paddle is facing the correct way, using the "scoop" to push the water.
Try to push the paddle from your core rather than with your arms. This will minimize fatigue and strain on your arms.
Find a shallow area to launch your board for ease in mounting.
If you find yourself losing your balance, fall away from your board into the water. If you're going down anyway, avoiding a face plant (or any body part) with the board is ideal.
Wear or at least have a floatation device within reach. Children must always wear floatation devices.
Paddle Boarding Adventure Awaits
Whether you are looking for a new way to fish, get in shape or simply enjoy the water, paddle boarding is an ideal way to do it. The low-impact exercise is easy for anyone to do and offers a great cardiovascular and core workout. With paddle boarding becoming more and more popular on lakes and rivers, you don't even need to live near the ocean to participate. Standup paddleboards offer a great paddling experience for people of all ages!
Thank you again for reading our article on "What Is Paddle Boarding & How To Get Started". Be sure to also check out our other blog pasts as well.
What Is Paddle Boarding and paddleboard racing