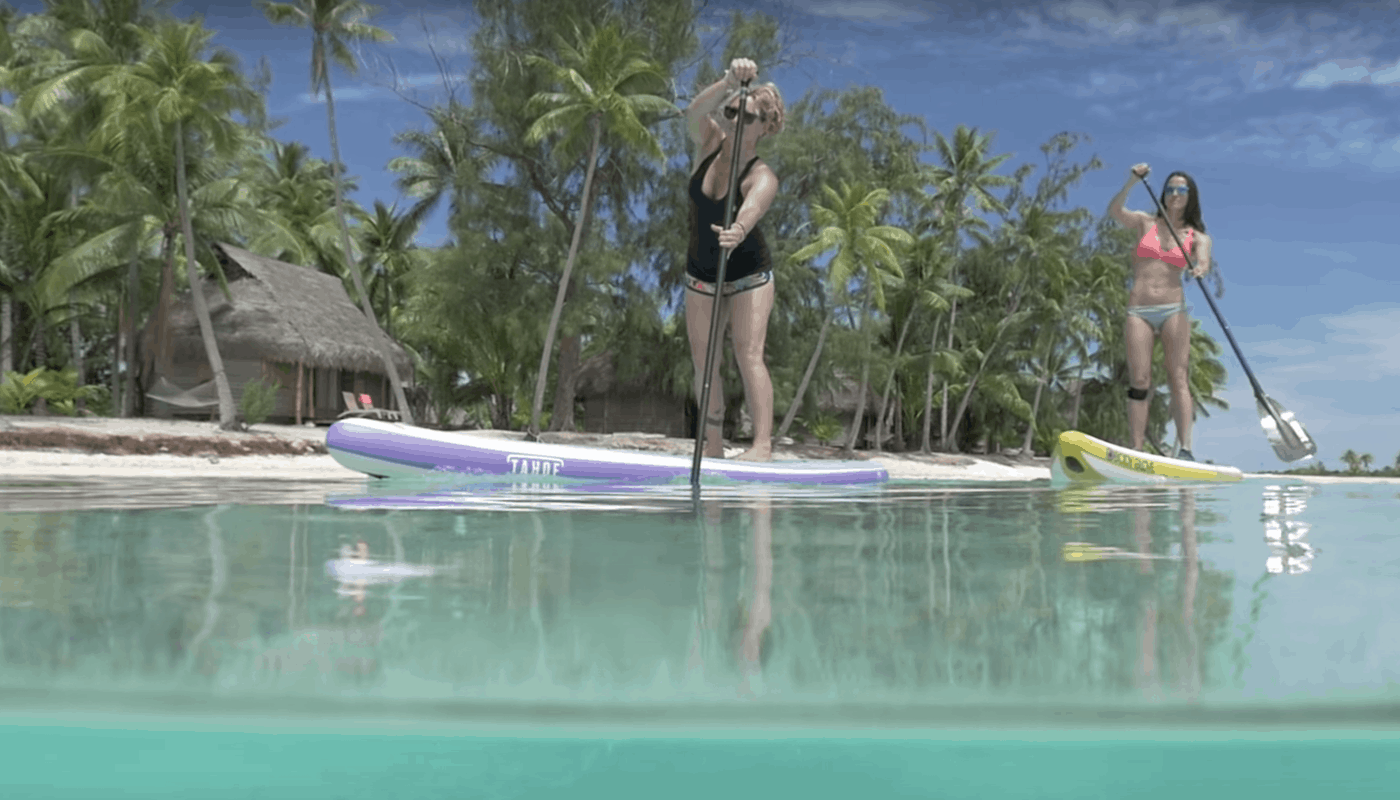 Paddle boarding is one of the fastest growing hobbies and sports. Anyone can be a fan of this awesome routine no matter his or her age. If you are just looking to have unadulterated fun or you are a beginner looking for a paddle board where speed or style is not a factor for you, you need an all around paddle board. If you are already a paddle board rider, I am sure you will agree with me when I say that getting the best all around paddle board is not always an easy feat.
All around paddle boards are extremely versatile and are the most common stand up paddles in the market. The multipurpose boards are good for the open ocean, flat water, and river riding. However, there is a dizzying influx of paddle boards in the market today. Each of the paddle boards is differentiated from the others using features that are ideal for different situations. It can be extremely daunting to choose from all these, especially for a beginner.
Do not stress, however. We are here to do an in-depth review of the top rated and highly functional paddle boards to help you make an informed decision when choosing the one. But first, we have created a buyer's guide that will tell you all you need to know when in the market for a paddle board. We also let you know what to look out if you want to identify a paddle board that makes the most sense for you.
What to Consider When Looking For the Best All-Around Paddle Board
For maximum enjoyment of your SUPing experiences, you need to get the ideal board that is in line with your needs. For this, there are factors that you need to consider to get the best one for you. These are:
Paddle Board Weight Limit
This is a huge factor to consider before getting an around paddle board for you. Knowing the weight that you will place on your paddle board will enable you to get the right one for you. However, it is important to pick a board that can handle additional weight. This is because you might decide to take a friend, dog, or even extra gear on your next surfing trip. You might even lend your paddle board to your friend, whose use for it you might not know. As such, always consider picking a board that can handle additional weight.
Rigid Or Inflatable Paddle Boards
The two paddle board models in the market right now are hard boards and inflatable boards. Below, we look at the features and working dynamics of each.
Inflatable boards: these are inflatable and deflatable paddle boards that are ideal for anyone regardless of their skill level. This makes them highly convenient, easy to maneuver, and lightweight. Moreover, it is easy to inflate them since a hand pump is part of the board package.
When filled with air properly, inflatable boards are just as hard as the rigid ones. They are made from high-quality material that is less likely to suffer from tears and scratches. Their deflatable feature makes them very easy to pack and carry around. They also consume less storage space.
Hard boards: these are more stable, unlike the inflatable type of SUP. They are made with an epoxy resin top and typically an eps foam core that makes them very hard. Rigid boards are cheaper than inflatable boards but are very heavy and hard to transport as compared to their inflatable counterparts.
Paddle Board Sizes
Length: generally, a short board is very easy to control and easy to transport. Conversely, a longer board will track better and move faster. The longer board is also easier to keep in a straight line as opposed to a shorter board. However, longer boards are hard to turn and offer less maneuverability. Rigid long boards are very hard to transport as well. For a beginner, a short board would be great for a start before moving to the longer ones.
Width: all around boards have different widths for different needs. A wider board is more stable, something that enables you to keep your balance. It is also easier to learn how to use a paddle board when it is wider.
Thickness: the thicker the board, the more stable and easy to paddle it is. It is a consideration for inflatable boards.
Fins
The more fins your paddle board has, the more stable it will be in the water. Fins are used for tracking or keeping your board on a straight line. Paddle boards with a removable fin, however, are better since they are easy to store. Most rigid boards have one center fin for tracking. Having a good fin setup will depend on the type of boarding you intend to do. Most of the time, a single center fin will work for about everything. With surfing or maybe whitewater, you will more likely want a tri-fin setup. 
The Top All Around Paddle Boards Reviewed
1. Atoll Inflatable Stand Up Paddle Board
Type: inflatable
Maximum weight: 350 lbs
Length: 11 feet
Width: 32 inches
This Atoll paddle board is one of the strongest paddle boards that you will find in the market because it comes with a wide array of incredible features that makes it highly functional. First off, it features an ultra-light construction that is extremely strong. A fiberglass adjustable floating paddle comes with the board.
What stands out the most about this all-around paddle board for us is its ease of assembly. Being an inflatable board, it definitely needs time to set up. The fins, however, are easy to attach and detach without extra tools. A Bravo double action hand pump is used to inflate the board, which is easy to use.
The manufacturer has a 2-year warranty on the paddle board, which adds to the promise of quality. A heavy duty backpack that can hold the paddle, paddle board, and a hand pump is included in the package. Moreover, you have three colors to choose from: desert sand, light blue, and green.
---
2. Tower Inflatable Paddle Board
Type: inflatable
Maximum weight: 200 lbs
Length: 10 feet 4 inches
Width: 32 inches
This is our favorite all around paddle board when considering the performance of a paddle board. Featuring a wide design, this paddle board is very stable and provides exceptional balance even when you are standing. One bottom fin provides superior tracking and speed for all skill levels. The deck quality is premium and non-slip for a safe riding experience.
Notably, the military grade material construction has made this paddle board extremely strong and durable. At 6 inches when completely inflated, it is more rigid and floats at a higher level on the water. You do not even have to get wet! Another key thing to remember is that it is inflatable ,which makes it very easy to carry around and store.
The complete package contains a 3 piece paddle, a Tower branded deck pad, a high-pressure pump, a removable center fin, roll-up carrying straps, and hand holding straps. A 2-year manufacturer's warranty covers defects but does not cover wear and tear or the accessories.
---
3. ISLE Versa Standup Paddle Board
Type: rigid
Maximum weight: 275 lbs
Length: 10 feet 5 inches
Width: 32 inches
Highly durable is what this paddle board is. It is constructed using thermal molded technology that creates a lightweight and stylish board that is highly durable. Dual stringers also add to the stability. This makes it best for all types of surfing be it fishing, SUP yoga, and SUP surfing at all levels.
Despite not being inflatable and easy to store, this Isle paddle board has a grooved carry handle that makes it easy to carry. What's more, the manufacturer has a 60-day risk-free return policy that allows you to get a replacement in case of a fault. A restocking fee, however, applies for this product.
---
4. Ten Toes Weekender Inflatable Stand Up Paddle Board
Type: inflatable
Maximum weight: 275 lbs
Length: 10 feet
Width: 30 inches
Ideal for both beginners and professionals alike, this Ten Toes paddle is extremely strong and light. It is made from military grade PVC that makes it strong and heavy duty. Since it is inflatable, it is very easy to fold and carry. When inflated it measures 10'x30x6″, and 11×36″ when it is rolled up.
The paddle board comes in two styles: paddle and pump and paddle, pump, and rucksack. The board package comes with the indestructible paddle board, 3 piece lightweight adjustable aluminum paddle, a manual pump, and 3 removable fins made of nylon. A year's manufacturer's warranty is available so in case your board has a problem, you can get it replaced for free.
---
5. Peak Escape Soft Top Aqua Stand Up Paddle Board
Type: rigid
Maximum weight: 250 lbs
Length: 10 feet 6 inches
Width: 32 inches
Undoubtedly one of the most stylish all around boards, Peak Escape paddle board boasts of an elegant and durable construction. The hard construction with an ABS bottom does not scratch or ding in case of a fall. It is extremely lightweight at 23.5 pounds with an ability to carry up to 25 pounds of weight on water. Additionally, the board can be used in both salt and fresh water for thrilling fun.
Beautiful color-matched accessories add to the look and what's more, phone lovers will appreciate the included phone case.The manufacturer has a 30-day satisfaction guarantee that allows you to return your product risk-free in case of an issue. There is also a 6-month warranty on the materials.
---
6. iROCKER All-Around Inflatable Stand Up Paddle Board
Type: inflatable
Maximum weight: 435 lbs
Length: 11 feet
Width: 32 inches
Looking for a paddle board with a big weight capacity? This should be among your top considerations. When fully inflated, the board can handle a weight of up to 435 pounds making it best for heavier riders and multiple riders. It is extremely stable and has a sport shape that makes it faster and more efficient than other all around paddle board models.
The paddle is made from quality fiberglass and can be broken into 3 pieces for easy storage. The rubber material on the edges of the blade prevents your paddle from chipping. Furthermore, you can easily convert it into a kayaking paddle by buying a kayak blade.
What we like best about this board is the load of accessories that come with the kit. These are an adjustable fiberglass paddle, an ankle leash, a backpack, a hand pump, and 3 side fins. The backpack has enough space for extra gear and is made from high-quality materials. A 2-year warranty comes with the product that adds to its quality.
Conclusion
The best all around paddle board will provide an unforgettable experience whether you are gliding in open or flat water. It is critical to remember that there are tradeoffs to every paddle board since you cannot find one that is perfect for all your needs. What's more, always remember that the price does not make the best product so you need to understand the features of every paddle board to know if it is in line with your needs.
We believe that our guide will point you in the right direction in your bid to identify and find the best all around paddle for you. If you are looking to buy the best paddle boards, you can even pick one from our reviewed products. They are highly functional and top rated, not to mention that a beginner will appreciate any of them to grow his/her confidence and skill on the water.
We hope you enjoyed our article on all-around SUP boards. Be sure to check out our other paddle board reviews and blogs.