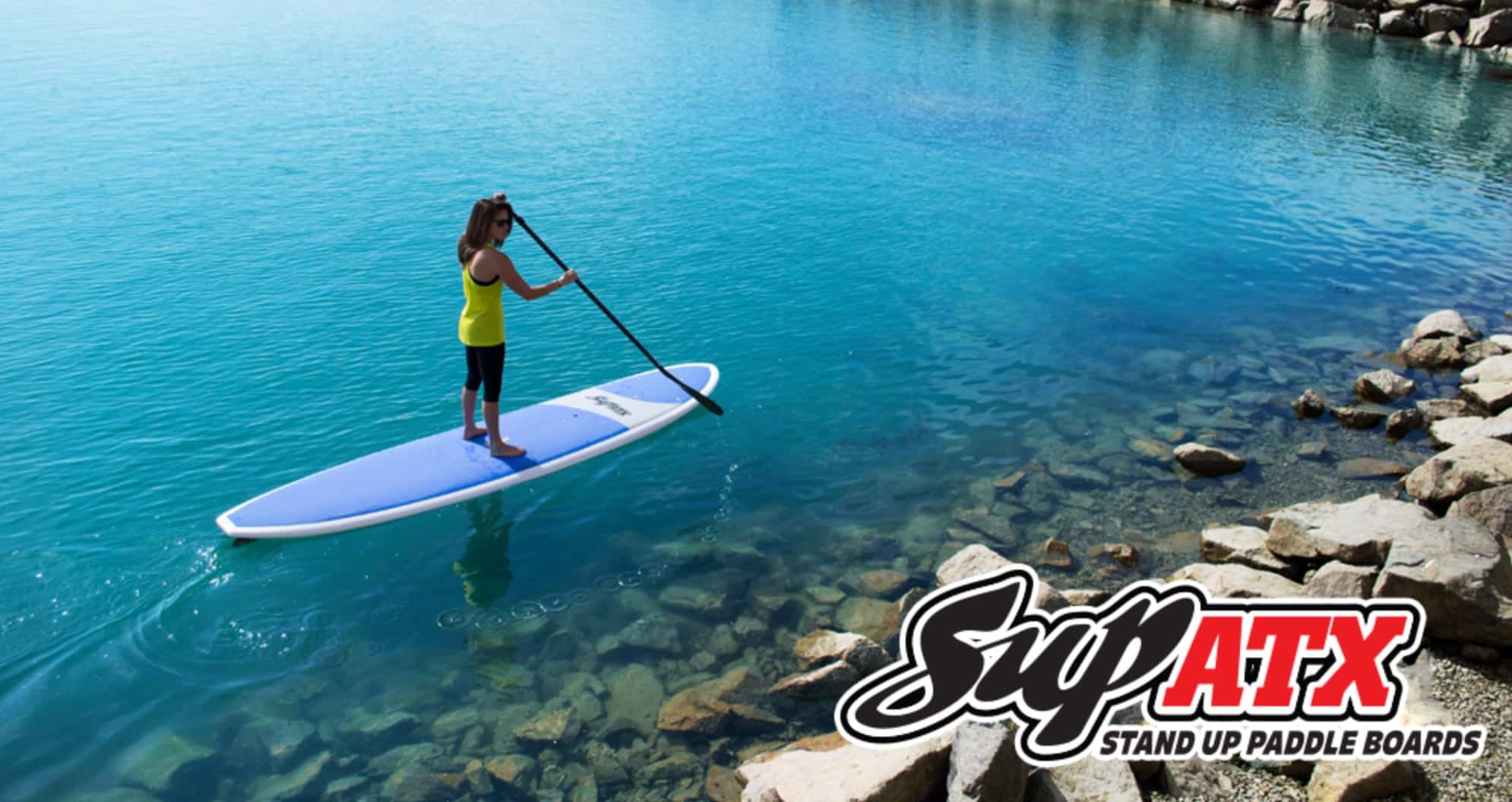 SUP ATX Paddle Board
Based in Austin, Texas, they made a name for themselves as a premier SUP (standup paddle board) manufacturer since its inception in 2008. Founded by Nick Matzorkis, SUP ATX began as a way to bring paddle surfing — a favorite activity when Matzorkis spent time in Malibu, Calif. — to his home base of Austin.
About The SUP ATX
SUP ATX helped to popularize the sport of paddle boarding and is now the world's largest manufacturer of standup paddle boards. These SUPs are meant to be used by newbies and experts alike. They make a large variety of SUPs that can be used on lakes, oceans and rivers for a variety of activities including wave surfing, yoga, or distance paddling.
ATX manufactures all of their boards in the US with only the finest materials including resin research epoxy, JPS fiberglass and their EPS (expanded polystyrene) foam cores. All these materials are incredibly lightweight, durable and withstand extreme weather conditions.
Since they make their boards and sell them directly to their customers, they eliminate wholesalers and distributors. This allows them to sell their boards at a significantly lower cost than their competitors. They maintain optimal quality by spending more for prime materials while keeping costs low. The main objectives of SUP ATX is:
To make the highest quality SUPs on the market
Optimize all board shapes to perform on all types of water
Include necessary SUP accessories like fins, handles, vent plugs, and pads as standard equipment
Make paddle boards that are easy to transport and store
Offer paddle boards at half the cost of competitors
SUP ATX Boards And Accessories
In order to create high-quality paddle boards that can be used by all skill levels and on all types of water, tons of testing had to be done. This is exactly what they did by taking a large array of board shapes, sizes and construction types out on all types of water to find out which worked best and where. Once prototypes were developed, they sent them to friends and associates to be tested and reviewed. This feedback not only helped to develop optimal boards for inland lakes, rivers and oceans, but also popularized the sport of paddle boarding for those that lived away from the coasts.
All ATX boards include EVA (ethyl vinyl acetate) memory foam deck pads as well as a carrying handle, fiberglass fin, leash plug and automatic air vent with plug. The ATX determined that these were necessary items that should come standard with all SUPs.
Along with the fact that most SUP ATX boards weigh between 25- and 32-pound, the carrying handle makes transporting these boards quite convenient. Inflatable SUPs fold up into an included backpack, while rigid boards can easily be lifted onto roof racks.
A few common features of all of their paddle boards include:
They are made for all skill levels
There are boards for all types of water including oceans, rivers and lakes
The length and width combinations offer the utmost stability in most conditions
Low rocker designs allow for more speed on calm waters
Available LIFTSUP integrated handle tucks away so the entire top of the board can be used for yoga or exercise
Made in the US with the highest quality materials for the ultimate longevity
Types of Boards
SUP ATX boards are designed for avid paddle boarders and first-timers alike. With a large selection of boards from which to choose, it is easy to find the best length and width for optimal stability. There are two types of SUPs; an inflatable version and a rigid version.
Inflatable paddle boards are useful if the user does not have adequate storage space for a rigid board or if the user does not have an easy way to transport the board — vehicle roof racks, truck or trailer. The differences between the two styles is generally minimal and comes down to personal preferences. The following are summaries of both the Journey iSUP and the Journey Paddle Board (rigid).
SUP ATX Journey iSUP
One of the most versatile boards out there is the inflatable SUP, or iSUP. SUP ATX's version of this board is the Journey iSUP, and it is available in 10'6" or 11'6" lengths. With 31" width and 6" height, this board makes an ideal all-around stable paddle board. It is capable of holding up to 225-pounds including cargo, which can be secured with bungee cords (not included) to the attached stainless steel D-rings.
The Journey iSUP package not only includes a backpack for transporting and storing, but also a three-piece adjustable aluminum paddle and two-way hand pump. The center-placed carrying handle and two handles on the rails makes carrying the board easy once inflated. The EVA memory foam traction pad ensures the paddler a comfortable and slip-free ride.
This board comes highly recommended for recreational paddle boarding, traveling or for those who simply do not have enough storage space for a rigid board. It can be used on all types of waters, and it offers all the features of a rigid board without the bulk.
---
SUP ATX Journey Paddle Board
This board is the rigid counterpart to the Journey iSUP. It is 10'6" long with a maximum width of 32" in the center of the board and 4.75" in height. Like the Journey iSUP, this board has an EVA memory foam traction pad and stainless D-rings to secure cargo. Unlike the Journey iSUP, the Journey has an included fiberglass fin, integrated carrying handle called LIFTSUP, CONNEXSUP plug, vent plug and leash plug.
The Journey paddle board can hold up to 240-pounds including cargo. It is also an ideal board for avid paddle boarders with adequate space for storage and a way to transport the board to the water. Paddles are generally not included with rigid boards and must be purchased separately.
---
SUP ATX Paddle Board Accessories
Aside from their high-quality SUPs, they also supply a variety of paddle boarding accessories. Accessories range in importance from absolute necessity to nice-to-have. A few SUP accessories available from them in no particular order include
Travel and storage bags for paddles and boards for protection
Assorted fin shapes for performance on different types of water
Car straps and roof pads for transporting SUPs
Wall board racks for storage
Cargo nets to attach to D-rings
Leashes to keep connected to the board
Most of all, carbon fiber paddles…
There are also a variety of attachable accessories available like a soft cooler bag, SUPSmart dry bag for phones and waterproof Bluetooth speakers. There are items available intended to protect and reinforce a SUP prior to damage like rail tape. Since dings happen, a ding repair kit is available to keep the SUP looking like new.
Conclusion
Thanks for reading our SUP ATX review. If you have any thoughts, be sure to leave them below in the comments.